Using the Right Keywords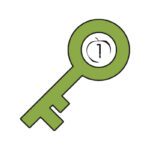 Short-tail keywords, or keywords composed of very generic keywords, might seem appealing because they're searched more often than long-tail keywords, however, they're also a lot more competitive. So, unless you're writing content for a large organization, like Apple or Macy's, and consumers are likely searching specifically for your product, you don't want to enter into a sea of competitors with big brands that have even bigger pockets.
Long-tail keywords, on the other hand, may not be as frequently typed into a search engine—think, "Egg" vs. "Poached Egg with Avocado and Bechemel". By including more long-tail keywords into the content on your page, you'll attract a larger number of customers who are likely to search for any combination of those long-tail keywords.
Location-based keywords are keywords that directly relate to your business's physical location. For example, if your business is a bakery in a popular neighborhood in Charlotte, NC, you'll want to include not only Charlotte, but also the name of that specific neighborhood. By doing so, you're more likely to target visitors in your area rather than across town who may or may not ever make it to your location.